If you dreamed of a cozy, romantic log cabin to enjoy for a few days, this is what you have been looking for. You will never forget the bright blue sky against Mount Elbert, Colorado's highest peak, the view of beaver ponds, all sitting by the woodstove, staring at the fire through its glass door, in a big cushy leather chair.
Testimonials
A very nice place to go for a romantic getaway. This week just flew by. We enjoyed all the mountain passes, they were breath taking (literally!). The view of the rocky mountains from the window was such a joy to wake up to. We suggest for good food, Wild Bill's for hamburgers and Quincy's for a steak dinner. Thanks for everything.
Rick & Glenda, Belton, TX
The four authentic cabins of the old Taylor Ranch are about 30 yards apart, making an ideal setting for romantic interludes, family reunions and small groups. Choose from our three very comfortable non-smoking two-bedroom in Buckeye & Tashi's or large one bedroom – Luna's & Zuni's, one bath log cabins, very well equipped and filled with antiques.
Buckeye Cabins Featured in Trail Running Magazine
Trail Runner featured a great article on Leadville as a running destination, recommending Buckeye Cabins as a great place to stay during your running vacation in Leadville! Read the article.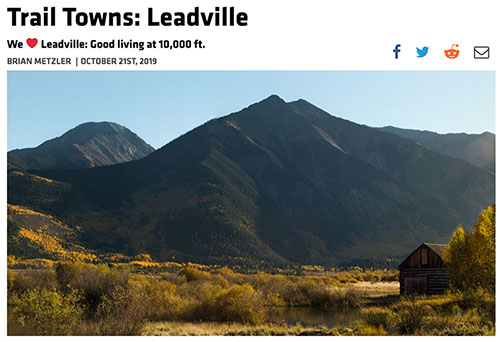 Testimonials
We didn't arrive to the cabin until late, and forever, we will remember how at home we felt, as we drove up and entered. The lights turned on, and dimmed made the perfect setting. We loved the cabin feel with such romance and detail. Everything was so nice. You will see us again. This is truly God's divine creation.
Located at 10,300 feet at the headwaters of the Arkansas River in the midst of Colorado's 14,000' peak mountain ranges. They are conveniently situated 5 minutes outside of Leadville, an old historical mining town, 20 minutes from Copper Mountain, and 40 minutes from Vail and other world class ski resorts.